[ Sponsored Post ]
Receiving my very first brush from
Natta Cosme
recently.
So glad that i got to own this beautiful babies.
I always wanted a set of brush to add in to my make up collection
and dream comes true !
Natta Cosme
got me a set of blue color version.
I always adore things with blue color. So i was so happy !!
Let's open the box together ayy ?
Receive this big box from the postman with joy.
Natta Cosme provides numerous beauty products on their website.
They had a very safe packaging which it protect the item you
order safely arrive to your home door.
My
Cerro Queen brush
!
From the inside. There are
7
of them !
Blue handle and blue bag definitely the perfect match.
The brush wool material is made of fibre.
The brushes also give a very
smooth feeling.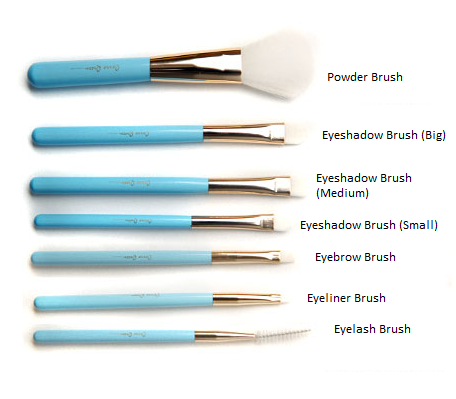 The listing about the brush is on picture
above
.
[ Item Type ]
Practical and functional makeup brush set
Don't you often think that in a makeup brush set, there are always some brushes that you unlikely use them? And buying one brush by one brush costs more than buying a brush set isn't it?
CERRO QREEN Cosmetic Makeup Brush Set Fibre Wool - Blue contains 7 pieces of makeup brush not only for your face, but for your eyes as well!
It is the most basic makeup brush set that every beauty lovers should have!
Perfect cosmetic case
Don't you like the more convenient traditional cosmetic case with long strap? Don't you like cosmetic case with high quality and thus long lasting? Don't you like cosmetic case with simple design yet fashionable? Don't you like cute shiny colour cosmetic case?
Anti-bacterial mini fibre
Is your skin easily irritated? Try 0.05mm mini fibre as it is more comfortable and equipped with anti-bacterial property. Hence, it is the best choice for people who are sensitive to products made from the furs of animals!
Wooden brush handle